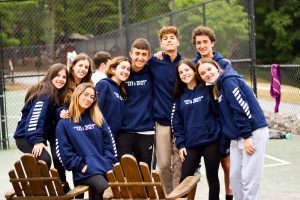 Thanksgiving is always a time for reflection and appreciation. To celebrate this year we want to share what we're most thankful for.
Campers and Camp Families
We're incredibly thankful you value the summer camp experience and your summer home. We're thankful you carry on long-standing traditions and create new ones of your own. We're grateful for the shared memories and friendships you've forged. We love every summer moment laughing, playing and growing with you!
Our Staff
Camp is about the people, and Laurel South has some of the most amazing staff and counselors in the world. Each summer they come from all over and dedicate themselves to ensuring a safe, fun and incredible experience for our campers. It's hard work and we're so grateful for all they do! Our staff are the pillars of our community.
The State of Maine
The scenery in Maine is breathtaking. We love the woodlands, rolling hills and, of course, Crescent Lake. There's no better backdrop for an amazing camp experience!
Laurel South Traditions
Camps thrive on tradition, and Laurel South's are on display all summer long! From daily traditions like campus songs and Evening Cove to once-a-summer favorites like the Carnival and Spirit Days. We're thankful from arrival to departure…and every moment in between. Happy Thanksgiving!