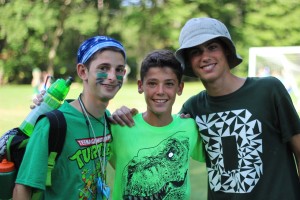 It started out as any ordinary morning. Campers and counselors strolled to the Dining Hall for breakfast and left ready for another exciting day of activities. Clean-Up went as scheduled, and the campers and staff began to make their way to Morning Cove…never suspecting what was about to happen. Suddenly, the horns blared and the cheers rang out from all over camp. Our CITs had broken Spirit Days!!! For the next 2 days, the Blue Cavemen and Green Dinosaurs poured their hearts out on the fields, cheered loudly for each other, showed tremendous sportsmanship and exhibited Laurel South Spirit to the fullest! We're so proud of our awesome CITs who take over the days and serve as wonderful role models to our younger campers. At the end of the night, the scores were tallied and the winner was — all of us, because at the end of it all, the score doesn't matter. The real winner of any Spirit Days is Laurel South!
Today we're back into our "B" Day schedule. Our sailors have already left to compete in the Maine Lakes Cup. Our girls are set to compete against our neighbor camps in Volleyball and Soccer, while our boys will play Lacrosse. We even have an Archery Intercamp today! At Rest Hour, our Three-Year Club Celebration will commence in the Downeast Lodge.
Tomorrow is Carnival Day! After our "S" Day breakfast and Elective Morning, we will all meet on the Downeast Field for an unbelievable Carnival with games, food, prizes and fun! We still have plenty to look forward to as well: Moose Bowl, Theater Shows, 8th Grade North Conway Trip, Funtown and much more. The action never stops on the shores of Crescent Lake!!!