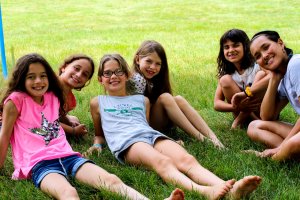 Crazy to think that we're nearing the halfway point of the summer. We've created some wonderful memories, built some amazing friendships and had some incredibly fun times!
Our 7th Graders ventured out to Camden State Park and had a wonderful day seeing the sights of one of Maine's most visited tourist destinations. They had a blast! Today is an "S" day and the campers are taking part in the Second Annual Resort Day! A continental breakfast was delivered to the cabin areas, and the campers are spending their morning and afternoon sailing, bumper tubing, playing games all over camp, and participating in a Tough Mudder run!!! The day's meals are tailored to the resort theme. Our CIT's are exploring parts of Maine and checking off items on their CIT Bucket List. We just heard from them, and they are having the time of their lives!!!
Looking ahead, everyone is pumped for the awesome Laurel South Fourth of July festivities tomorrow, which culminates with the best fireworks show in all of Maine!
With two weeks left, we are so thankful for the great times we have shared, and we know that the time we have left will create a treasure trove of memories to last a lifetime!!!