The First Session of 2013 may soon be coming to an end, but the good times have not slowed down at all. Yesterday was our final "S" Day, and the entire camp enjoyed an amazing day at Funtown USA. Form the rides to the games to the food and the fun, it was a day not to be forgotten. We're now into our final "A" and "B" days of the session with all the culminating activities: the Zip Line and Giant Swing at Challenge Course, the final Gymnastics Show, Grilling with Roger at Anything Goes and the good times rock on.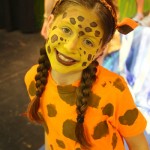 After the incredible production of Lion King by Laurel South's younger thespians, we're excited for tonight's performance of Hairspray. Tomorrow night is our Final Banquet and Social. After packing on Sunday, we will all go to our closing Council Fire before saying, "See you next summer" to our Laurel South family.
It's been an awesome First Session!!!