Yesterday was our final "S" Day of the summer, and everyone had an amazing time at Funtown USA!!! We enjoyed the rides, the games and, of course, the fun and the food! What we enjoyed most was the time we all had, the entire camp family, laughing and sharing an awesome day.
Today began our final two program days of the session. Each activity area will hum with culminating programs and events. We're psyched for tonight's performance of Shrek the Musical in the Laurel South theater. Our campers worked hard to prepare all summer and this show promises to be one for the ages!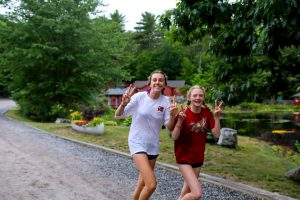 Tomorrow night we will have our Final Banquet. Campers and staff will feast on lobster, steak, clam chowder and vegetarian lasagna while reminiscing about the summer gone by.
Monday is Departure Day, and while we're sad to see the session come to an end, we choose to look at the positive…we are one day closer to the start of the 2017!! Our CIT's will be greatly missed — they were an amazing group.
Every summer is special in its own way, and the 2016 one has been no exception. The laughter of the campers, the bonds formed between staff and campers, and the feeling of Ohana lets us know we're so lucky to be here together each and every summer. Oh what a beautiful day in the state of Maine!!!