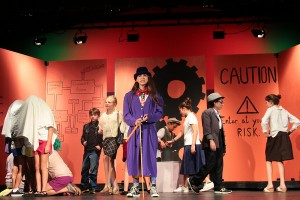 Yesterday was our final "S" Day of the season, and Funtown USA certainly lived up to its name! The entire camp enjoyed the rides, the games, the food, and, of course, time spent creating memories with friends. The 4th Annual Moose Bowl more than lived up to the hype, with the Rattle Snakes edging out the Black Bears in a well-played, hard fought contest. Today was our awesome Laurel South 5K Color Run, and this afternoon will be our first ever Crescent Lake Swim Challenge.
The next two days are our final Program Days of the session, filled with shows and exhibitions to demonstrate skills learned in just a few short weeks.
Just because we are close to the end does not, for a moment, mean the fun is over. After our younger campers dazzled us with their performance of Willie Wonka and the Chocolate Factory on Wednesday, tonight is our older campers turn in the spotlight with their performance of Thoroughly Modern Millie. Tomorrow night is our Lobster, Steak and vegetarian Lasagna Final Banquet.
We may be nearing the end of the session, but the fun continues in Casco, Maine!