We're down to our final Program Days of the session: "A" Day today, "B" Day tomorrow.
Tuesday night was another incredible Moose Bowl! It was an amazing night: tailgate cookout, singing of the National Anthem, rocket launches, halftime dance show, the game itself and the dance party on the field after the game. We all had a great time! Wednesday night, we watched an amazing performance of Annie by our younger campers! The talent on stage left us speechless. Yesterday, the entire camp ventured to Canobie Lake Park for a day of rides, games, food and fun!!!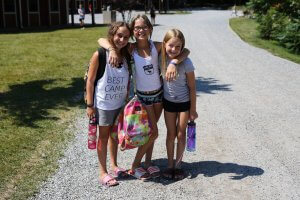 We can't wait to see the older camper's theater show tonight: The 25th Annual Putnam County Spelling Bee. Tomorrow will be our awesome banquet with lobster, steak, or veggie lasagna followed by our Final Social. Sunday night is our Closing Ceremony, as we say goodbye to what was truly an incredible session!
We can't wait to see many of our families on Monday, and, whether you'll be here or not, we want to let you know how much we appreciate the trust you have placed in us, sending your children to us for a month. While we're sad to see the session come to an end, as we tell the campers, we won't be sad that it's ending, we'll be excited that the countdown to summer 2018 begins!!