If your child regularly spends a half hour in the cereal aisle of the supermarket choosing his breakfast cereal or takes the better part of a day debating whether he wants to go to the movies or have a play date with a friend, there is a somewhat underrated and under appreciated aspect of sending your child to summer camp that you may want to consider. Camp helps children learn how to make decisions.
For many campers, sleepaway camp is their first real experience away from their parents.
They find themselves faced with decisions every day, some of which are traditionally made by their parents. Camps, for instance, often offer campers several different dining options each meals. Without their parents there to tell them to eat salad because they don't like tuna or pasta, children find themselves faced with the decision about what to eat. This sounds like a small thing, and in the scheme of larger things, perhaps it is. However, it's not an exercise without long-term benefit. Once children understand the decision is theirs, they tend to get adventurous. As a result, many will try—and be surprised to realize they like—foods that they might not have tried at home if steered toward safer choices by us parents who, let's face it, sometimes choose the path of least resistance if for no other reason than to maintain peace. The sense of adventure gained also carries over into their daily activities.
Most camps programs are designed around camper choice. While the level of choice varies from camp to camp with some giving campers exclusive control of their daily schedules while others plan part of the day and allow campers to choose a couple or a few activities, campers are still faced everyday with choosing at least some of their daily activities. Making such decisions forces campers to consider whether it's better to stick to a tried and true activity that they love or try something new. While some campers are inevitably more adventurous than others, the ability to make decisions without the pressure of peers or parents and in the open, accepting environment of camp at which being adventurous is not only accepted but encouraged, children learn to choose what they want rather than what they feel that others want for them. Again, this may seem like a relatively small accomplishment in the larger scheme of growing up, but many books about success emphasize that the children who grow up to become the most successful adults learned early to understand what they wanted and how to make the choices in life that would help them achieve their goals. Additionally, when children know what they want, they're able to be more assertive in pursuing goals and voicing when they're unhappy.
So if you're tired of perusing the aisles for the second, third, and fourth time while your child tries to decide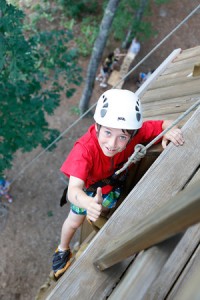 between Cinnamon Toast Crunch and Cheerios or are frustrated about not being able to make evening plans because your child can't decide what he wants to do, consider sending him to summer camp where he can get a crash course on learning to make decisions on a daily basis.