Halloween is a blast every fall, and we're sure our campers loved celebrating last week. Who doesn't like expressing themselves with a wacky costume? At Camp Laurel South we're fortunate to have so many opportunities to do just that. Camp is always encouraging creativity through crazy hair, stage make up or ridiculous outfits.
Our favorites include the Blue and Green everywhere for Laurel South Spirit Day, Team Day, Camo Day and the patriotic madness on the 4th of July. But those are just the beginning!
Counselors often shake it up with themes for Socials or Saco/Kineo IC periods. Evening programs such as Looneyville, Gold Rush and Where's Waldo often incorporate costumes or themed ideas. And, of course, the entire camp shows off their Moose Bowl Spirit by dressing in Black to support the Black Bears or Red to show their allegiance to the Rattle Snakes.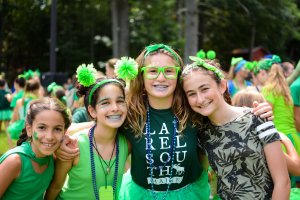 The best part of dressing up isn't always being out and about, but the enthusiasm for planning costumes back in the cabin with your closest friends. Camp is a reminder that you're never too old and never too cool to dress up and be excited for what's ahead, and that's an important lesson for everyone!