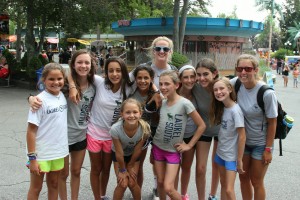 What an amazing "S" Day we had yesterday! The majority of camp traveled to Canobie Lake Park. We had an awesome time! The rides, the games, the food and, most importantly, the time spent with our cabinmates and counselors couldn't be beat. Meanwhile, our incredible group of CIT's had a Magical Mystery Bus Tour that took them to exciting destinations such as Hacker's Hill, Quaker Ridge, Old Orchard Beach and Old Port, Portland. They had a wonderful time seeing the beauty of Maine while reminiscing about all the memories created over their lengthy camp careers!
When we went to breakfast on Tuesday morning,
no one had any idea that Spirit Days would be breaking. Our CIT's decided that the breakfast break would stun everyone, and boy were they right! For the next two days, the Blue Space Rangers and Green Cowboys will square off in the friendliest of competition. The ball fields, waterfront and all areas in between will be filled with Laurel South Spirit and Pride. At the end of the two day contest, we will be reunited as one, because, as the cheer goes, "Blue and Green are one big team!" At the conclusion of our Closing Ceremonies, we will have the most amazing fireworks display in all of Maine!! What an awesome way to end Spirit Days!