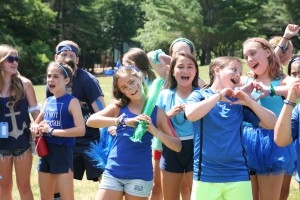 When we woke up on Wednesday morning, no one had any idea that Spirit Days would break. In the next few hours, Spirit Days broke in stunning fashion. It was amazing! For the next two days, the Blue Space Rangers and Green Cowboys squared off in the friendliest of competitions. The ball fields, waterfront and all areas in between were filled with Laurel South Spirit and Pride. At the end of the two day contest, we reunited as one, because, as the cheer goes: "Blue and Green are one big team!"
At the conclusion of our Closing Ceremonies, we were able to have the most amazing fireworks display in all of Maine!!! While we were disappointed to not have them on the 4th of July, it was an awesome way to end Spirit Days!
After a well-deserved late wake up, we are right back into our "B" Day schedule. We have two separate Tennis Intercamps today and a Climbing competition hosted by our friends at Camp Laurel. Tomorrow is another "S" Day which means our talented campers will amaze us with the Camper Variety show followed by the famous Laurel South Carnival! Sunday, our 8th Graders are off to North Conway for an exciting two day, one night trip to the White Mountains.
It's been a memorable summer already, and it just keeps getting better and better!