F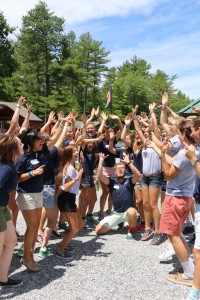 inally: Arrival Day is upon us!!! Camp is now filled with the sounds of fun and laughter as campers and staff rekindle old friendships and forge new ones. We've been waiting all year, and we're so excited to see everyone reunited at their summer home.
Tonight will be an awesome Cook Out dinner, followed by Evening Programs designed to help build cabin and group bonding. Tomorrow is Moose Stomp Day. We'll mix some "getting to know camp" items with tons of fun. Campers will Bumper Tube, get Health Checks, Make S'Mores at the Outpost, audtion for our fabulous Theater Shows and spend time getting to know each other. By Saturday, we'll begin our regular A and B Day schedules.
We couldn't be more psyched for another fantastic Laurel South summer of fun, friendship, laughter and memories that will last a lifetime! Oh, what a beautiful day in the state of Maine!!!